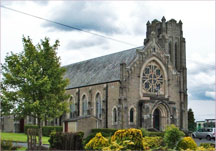 Sunday:
Vigil 7pm (Saturday)
9am
11am (Children's Liturgy)
Holydays:
As Announced
Weekdays:
10am Mon, Wed & Fri
(Except First Friday)
7pm Tue & Thu (Novena)
N.B. First Friday 7pm
Confessions
Thursday before Mass
Saturday before Mass
Aghagallon Church was built by Fr. O'Donnell outside a large rath containing 3 acres which was the place where Catholics assembled to assist at Mass during the times of persecution.
On the date stone is inscribed "This Church was built by ye Rev Felix O'Donnell and Arthur McHenry an ye rest of ye Paroch in the year 1748".
This Chapel was burned in 1898 but was afterwards repaired.
A new Church was erected in 1834 and dedicated under the invocation of St. Patrick. On the date stone is inscribed "Rebuilt 1834 Rev Daniel McGarry PP".
The Parish of Aghagallon comprised the whole of Aghagallon and one half of Ballinderry. The Catholic population in 1871 was 2,200 out of the entire population of 4,120.